I'm sorry this page is incomplete. I'm in the process of cleaning it up, adding links and descriptions and all that good stuff. But until then, you must suffer . . .
For SCARY TALES titles, please click here.
For Jigsaw Jones titles, please click here, as those books paid for this site and deserve their own page!
A PIRATE'S GUIDE TO RECESS
"I can't think of another book that portrays so beautifully (text plus illustration) what imaginative play at recess looks and feels like. Spot on perfect." — A Year of Reading.
"Preller and Ruth transform a school playground into a swashbuckling adventure featuring two rival captains—Red (from the previous book) and fearsome Molly. Their respective pirate crews are again rendered in pencil, creating a ghostly effect, and their surly theatrics will pull readers through this nautical fantasy. "Don't scowl so, sweet Red!" Molly tells Red after his crew mutinies. "We're just having a little yo ho ho." Preller and Ruth put kids at the helm as they communicate the joy of escaping into a world of pretend." — Publisher's Weekly, starred review.
SCARY TALES #1: HOME SWEET HORROR
Coming July 9!

SCARY TALES #2: I SCREAM, YOU SCREAM
Coming July 9!
SCARY TALES #3: GOOD NIGHT, ZOMBIE

Coming September!
"Preller makes us care about these people. We wonder about them after they're gone." — The New York Times Book Review.
"A summer of love and loss nearly derails a teenage boy . . . . The author strikes the right tone in capturing Jude's inner struggles with grief, angst and love as he tries to come to grips with the direction his life has taken." – Kirkus Reviews.
"For an older audience than Bystander (2009), Preller's latest takes on intense issues of love, friendship, and haunting sorrow . . . The realistic workplace scenes and the fast, wry,
contemporary dialogue will hook readers, as will the moving drama of grief and guilt." -– Booklist Magazine.
A PIRATE'S GUIDE TO FIRST GRADE

2010 CHILDREN'S BOOK-OF-THE-MONTH CLUB SELECTION.
"Told entirely in pirate lingo, this story follows a boy and his entourage of ethereal salty dogs through the first day of school. 'Me great scurvy dog slurped me kisser when I was tryin' t' get me winks!' The protagonist's fruitful imagination turns ordinary routine into a high-seas adventure complete with a small, skirted buccaneer walking the plank during recess. In the end, where does X mark the spot? Treasure abounds in the library, with the chance to experience the adventure of the written word. The illustrations have a vintage feel, complete with boisterous grog-drinking, scabbard-waving, and bubble-pipe-smoking pirates. The combination of the muted tones of the pirates with the bold colors of the real world adds to the visual appeal . . . it can serve as a tremendous read-aloud, especially on Talk Like a Pirate Day."—School Library Journal, Starred Review.
"Preller's buoyant pirate-inflected storytelling and Ruth's illustrations, which have a decidedly vintage flair, form an exuberant tribute to imagination and a spirit of adventure."—Publishers Weekly, Starred Review.
"Pirate-addled readers will dance a jig; press-ganged kids will be happy for the glossary. Good fun, me hearties." — Kirkus Reviews.
"Young children who love pirates—and parents who might relish reading aloud with swashbuckling gusto—are going to find "A Pirate's Guide to First Grade" just their cup of grog." — The Wall Street Journal.
"Young would-be buccaneers facing their own first-day jitters will enjoy this droll title, which ends with a cheer for libraries. A great choice for sharing on September 19, International Talk Like a Pirate Day." – Booklist.
2009 JUNIOR LIBRARY GUILD SELECTION
"Preller has perfectly nailed the middle school milieu, and his characters are well developed with authentic voices. The novel has a parablelike quality, steeped in a moral lesson, yet not ploddingly didactic. The action moves quickly, keeping readers engaged. The ending is realistic: there's no strong resolution, no punishment or forgiveness. Focusing on the large majority of young people who stand by mutely and therefore complicitly, this must-read book is a great discussion starter that pairs well with a Holocaust unit." —School Library Journal, Starred Review.

"Preller displays a keen awareness of the complicated and often-conflicting instincts to fit in, find friends, and do the right thing. Although there are no pat answers, the message (that a bystander is hardly better than an instigator) is clear, and Preller's well-shaped characters, strong writing, and realistic treatment of middle-school life deliver it cleanly." — Booklist.
"Expertly written and rich on multiple levels, "Bystander" weaves a realistic tale of the bully, the bully's targets and the physical and emotional pain that the victims suffer. It explores what might happen when someone decides to no longer be a bystander and to do something about the bully's behavior." — Kendal Rautzhan, Nationally Syndicated Columnist
"Bullying is a topic that never lacks for interest, and here Preller concentrates on the kids who try to ignore or accommodate a bully to keep themselves safe . Victim David's pain is evident from the first moment newcomer Eric sees him, but he tries not to acknowledge the reality before him. His mother is trying for a fresh start in this Long Island community, as his father has succumbed to schizophrenia and left her and their two boys on their own. Griffin, the bullying instigator, has charisma of sorts; he is a leader and yet suffers under his father's bullying and aggression. For Eric to do the right thing is neither easy nor what he first wants to do, and the way he finds support among his classmates is shown in logical and believable small steps. Eminently discussable as a middle-school read-aloud, the narrative offers minimal subplots to detract from the theme. The role of girls is downplayed, except for classmate Mary, who is essential to the resolution, enhancing appeal across gender lines. (Fiction. 11-14)" — Kirkus.
"Plenty of kids will see themselves in these pages, making for painful, if important, reading."— Publishers Weekly.
"Should be required reading for students in middle school or just getting ready to enter middle school." – Literate Lives.
FOR INFORMATION about THE BYSTANDER PROJECT — yes, the  theatrical performance based on my book, Bystander, is currently touring the tri-state NY area, and they'd love to appear in your school — click here.
At Spiro Agnew Elementary, the fifth graders rule the school. And class clown Justin Fisher rules them all. Or, at least, he did. Justin has always been the funniest kid in school. But this year, his new teacher isn't amused. And when Justin gets in trouble with Mr. Tripp over and over, the other kids turn on him, too. No one wants to be friends with the class troublemaker. But Justin Fisher isn't going down without a fight.
"This quiet, universal story about a regular kid acting out who just needs a hand will make a good classroom read. Preller handles sensitive issues with dignity, and kids will identify with Justin's eagerness to be liked and his snarky jokes. The book will be a particular hit with fans of Lenore Look's Alvin Ho and Jerry Spinelli's Maniac Magee." — School Library Journal.
"The short chapters also make Justin Fisher Declares War! a friendly read for more reluctant readers. A delightful addition to the world of humorous middle grade fiction." — Young Adult Books Central.
"If I were in the classroom this year, this would probably be my first read aloud. The first read aloud has always been key and the choice is always a hard one but there are so man reasons that JUSTIN FISHER DECLARES WAR would make a great first read aloud." — Franki Sibberson, A Year of Reading.
"I think boys will relate to Justin and enjoy laughing along with his misadventures. Coming in under 150 pages, with short chapters and a fast-paced story, Justin Fisher Declares War is a great transitional book for boys." — Pipedreaming.
"A great suggestion for fans of Andrew Clements or Dan Gutman." — The Happy Nappy Bookseller.
"Every class has a Justin, and at some point, every class begins to object to the disruption caused by a chronic goof-off.  Preller's novel offers excellent read-a-loud potential with ample opportunity for discussion about behavior and its consequences.  I'll definitely be recommending this one to both students and teachers in middle grade classrooms." — Reading Junky's Reading Roost.
MIGHTY CASEY
"Set against ample white space, Cordell's endearingly geeky kids take center stage (mid-game distractions include tree-climbing, a bee sting and a bathroom break on the left field fence). It's hard to envision a reader who won't take to these underdogs. Ages 4–8." – Publishers Weekly.
"When the score is tied, and bases are loaded, Casey comes up to bat. Does this sound familiar? The ink and watercolor drawings vary in size and are full of energy and movement as the players engage in different activities. The faces are expressive and fun to look at. This is a great baseball book for all those T-ball and Little League players out there." — School Library Journal.
"With engaging read-aloud rhythms and a misfit cast young children will cheer for, this story is assured a place in (Little League) baseball lore."—Booklist.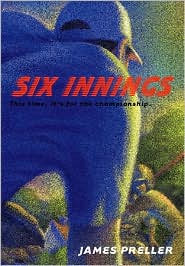 2009 ALA CHILDREN'S NOTABLE BOOK
2009 BANK STREET COLLEGE BEST CHILDREN'S BOOKS OF THE YEAR
2008 TOP 100 BEST BOOKS FOR READING AND SHARING — New York Public Library.

2008 TOP TEN BEST SPORTS BOOKS OF THE YEAR — Booklist.
"If Judy Blume could write a book about Little League, about its players' deepest fears and secret dreams, it might come out something like this."—Publishers Weekly, Starred Review
"A magnificent championship game between two Little League teams that is as much about the players as the plays."—Booklist, Starred Review
"It was Six Innings that made a baseball lover out of me." – New York Times Book Review.

"A tale of baseball, friendship, growth, and coming to terms with hardships, this fast read will grasp any reader who enjoys sports."–School Library Journal
2008 TOP 100 BEST BOOKS FOR READING AND SHARING — New York Public Library.

"I think that all adults in education, as well as students, need to read this book because it gives a thoughtful, insightful look into the minds of children like Trey . . . Thanks to James Preller for such a wonderful, thought-provoking story! " — Literature Lives.
"Preller adeptly portrays the psychological and social dynamics of this age group, and Trey is realistic and sympathetic as a misfit." — Kirkus.
"The lifelong friendship between two fifth graders—one with a mild spectrum disorder—hits the rocks but emerges intact in this perceptive tale from the author of Six Innings (2008). Feeling conflicted but wanting to fit in better with his classmates at Spiro T. Agnew Elementary, Robert (nicknamed Spider) uncomfortably tries to put some distance between himself and his buddy Trey, whose obsessions, lack of sensitivity to social cues, and general clumsiness have resulted in a reputation for being "out there." — Booklist.
"A fascinating joy to read with excellent readability and flow!" — Alan Online.
Wake Me In Spring
Hiccups for Elephant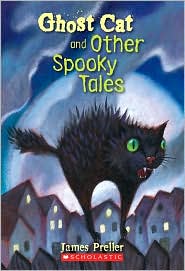 Ghost Cat and Other Spooky Tales
The Big Book of Picture-Book Authors & Illustrators