For "Jigsaw Jones" titles, please click here, as those books deserve their own page! A lot of exciting things happening with this series — with twelve classic titles now back into print — plus two all-new titles, The Case from Outer Space and The Case of the Hat Burglar, just published! That's 14 titles and counting!

TRENDING NOW . . . NEW FROM SCHOLASTIC!
EXIT 13: THE WHISPERING PINES
The first book in a new series, just out in February 2023. Think "Schitt's Creek" meets "Stranger Things" with a touch of Stephen King's Pet Sematary. The McGinn family finds themselves in an unusual, isolated Motel. Two siblings, Willow and Ash, slowly begin to uncover the deep secrets hidden from view. And over time, the family realizes that they can check in, but they can never leave.  A combination of thriller, mystery, and horror. For more info, click here and, okay, click here, too!
COMING IN SUMMER, 2023!
EXIT 13: THE SPACES IN BETWEEN
The second book in this exciting series begins with a fast pace and never lets up. The mysteries of EXIT 13 deepen . . . as Ash and Willow find themselves in dangerous situations with nowhere to run. 
FAIRY HOUSE
A light-hearted romp in the "Choose Your Own Adventure" tradition — a book with multiple endings and a myriad of paths to explore. The setup: If you build a fairy house with all-natural materials, a fairy just might come. And in this case, he does — except that "Bert the Below-Average" is a little bit different from your typical fairy. Good fun. 
THE LONG-AWAITED SEQUEL/PREQUEL TO BYSTANDER!
A critical supporting character in Bystander, Mary steps forward in this stand-alone book that can be enjoyed by readers of Bystander or by those who are unfamiliar with the previous title. Click here for lots more info. 
–
UPSTANDER
Mary O'Malley's only brother, Jonny, is fading away before her eyes, losing a battle to drugs and addiction. Mary's mother, too, has become absent and distracted. It's like living in a house of ghosts, and Mary doesn't know where to turn. 
It seems the only person who might understand is Griffin Connelly. Mary had thought Griff was too cool, too popular, for her. But now he wants to hang out with her — and listen. But can she trust him? 
Meanwhile at school, things are only getting more complicated. When two girls Mary thought were her friends decide to slam another girl online, Mary tries to look the other way. She needs to call on all her inner strength — and the kindness of a new student — to survive a fractured family, bullying in school, and friends who might not be what they seem. 
A 2021 JUNIOR LIBRARY GUILD SELECTION!
For more info on Upstander, Click Here to read this "author-meets-author" interview!
BLOOD MOUNTAIN
Think "Hatchet" meets "Misery" . . . and there's a dog! Perfect for fans of wilderness survival and adventure stories. In this fast-paced novel for middle-grade readers, two siblings, Carter (11) and Grace (13), thought the hike with their dad and their dog would be uneventful. But the hike on Blood Mountain soon turns ominous as the siblings become separated from their father. They are lost, braving the elements, fighting to survive. They are also being tracked, but who will reach them first: the young ranger leading the search, or the erratic mountain man living off the grid? When Grace injures herself in a fall, Carter decides to set out alone to seek help, leaving them both more vulnerable. Told in alternating points of view, this survival story will have readers on the edge of their seats.
A 2019 JUNIOR LIBRARY GUILD SELECTION!
"Fans of Gary Paulsen's books will likely be hooked from page one." — Publishers Weekly.
"Combine a strenuous hike in an unfamiliar wilderness park, lost kids, a dangerous hermit, a rogue mountain lion, a faithful dog, and a savvy female ranger and you have the gist of Preller's exciting thriller. Grace, 14, and Carter, 11, have agreed to a day hike up Blood Mountain with their father, though their dog, Sitka, is the only one who seems excited at the prospect. The siblings soon leave their slow, out-of-shape father behind, zipping up to the breathtaking outlook. What they don't realize is that their father has had a heart attack and collapsed, and a PTSD-plagued Marine, who resides on the mountain, is stalking them. Lost, hungry, and alone, Grace and Carter encounter dangers from the wilderness and the Marine. Sectioned into six parts of a day each, this tale of survival is relayed in short chapters that cycle through the various characters' perspectives. Preller combines brave characters with vivid descriptions of the perilous mountain, grasping readers' emotions in the same way as Gary Paulsen's Hatchet series." — Booklist.
"Preller, best known for his "Jigsaw Jones" series, ratchets up the urgency, crafting additional threats that shadow the separated children, including a cougar on the prowl and a mysterious mountain man. The result is a page-turning adventure, skillfully using alternating points of view to give readers a direct line to each character's heartbeat. Readers walk in characters' footsteps thanks to the vividly realized setting. While both children experience an epiphany regarding their place in the natural world, it's the strong supporting characters who round out the novel. D.E.C. Ranger Makayla provides fascinating survival facts and mountain man John embodies the novel's themes of non-materialism and finding oneself. Occasionally graphic, consistently suspenseful, this title will make a lasting impression with an emotionally stirring and complex conclusion. VERDICT A thrilling purchase for middle grade collections; perfect for fans of adventure novels by Jean Craighead George, Peg Kehret, and Gary Paulsen." — School Library Journal. 
–
–
A picture book in haiku, illustrated by Mary GrandPre. 
"Caldecott Honoree GrandPre captures the day's variable moods in pictures of absorbed, interacting kids of various skin tones and abilities . . . a cheery take on the joy of camaraderie." — Publishers Weekly.
"Lively haiku pairs with vibrant art to showcase various facets of the first day of school . . . Expressive, mixed-media illustrations are an eye-catching blend of bright colors, patterns, and perspectives: the multicultural kids and adults further the sense of inclusiveness. With it's reassuring and upbeat elements, this may also help alleviate first-day fears as it highlights the many positive opportunities that await." — Booklist.
NEW SERIES!
THE BIG IDEA GANG!
"Fans of Preller's Jigsaw Jones mysteries
will welcome the arrival of this
new, appealing series."
— School Library Connection.
Meet twins, Connor and Lizzy, along with their friends, Deon and Kym. Together they are the Big Idea Gang, four upper-elementary students who use their (super) powers of persuasion to help make a difference in their school community. Excellent as a mentor text for teachers using persuasive writing in the classroom. 
THE WORST MASCOT EVER
An armadillo, seriously? The school has got to do better than that! Lizzy and her friends go on a mission to change minds and get things done — but first it's going to take some thinking, some research, some convincing — and lots of laughs along the way! "An upbeat and empowering series opener." — Kirkus.
–
EVERYBODY NEEDS A BUDDY
Deon observes a new boy in school who just doesn't seem able to fit in. The Big Idea Gang wants to help — so they use their powers of persuasion to convince the school leaders to install a buddy bench.  "Abounds with examples of kindness, empathy, friends who listen to one another, and ways to strike up a friendship and to make a difference at your school. Other positive plot elements include lessons on how rumors can spread, and, best of all, a librarian explaining her rationale for weeding outdated books." — School Library Connection.
"Preller addresses topics such as kindness, activism, immigration, community involvement . . . A fresh new series nudging readers toward social change and kindness towards others." — School Library Journal.
–
BEE THE CHANGE 
"The Big Idea Gang is back in this beginning chapter book series featuring third graders who hope to make a difference in their community. Kim and Lizzy visit beekeeper Ozzie, whose charismatic personality and enthusiasm for bees motivate the girls to raise awareness of the important environmental role that bees play. After pitching the idea to their supportive teacher, Miss Zips, the kids brainstorm at the library and come up with a plan to invite Ozzie as a guest speaker and plant some flowers in the school garden. Friendly characters who want to effect change are paired with upbeat text and cheerful pencil drawings. Endpapers include bee facts.  VERDICT A solid choice for series fans and early chapter book collections.–School Library Journal.
BETTER OFF UNDEAD
ADRIAN LAZARUS has met with a curious fate. He's returned from the dead (after a bad bike accident, no helmet), yet not a lot has changed. He still has to attend middle school. Adrian has always been something of a misfit. But it's not just being a zombie that makes Adrian feel like an outcast. He notices the world has changed, too: bees are vanishing, forest fires are burning, seas are rising, super-flus are spreading. Even so, the holographic advertisements in the night sky assure people that all is well. But Adrian and his friends –- a beekeeping boy, a mysterious new girl who just might see into the future, and Talal, a seventh-grade sleuth –- aren't convinced. When they discover a birdlike drone has been spying on Adrian, the clues lead to two shadowy corporate billionaires. What could they possibly want with Adrian?
"The author sets his tale in a near-future world in which climate change and pandemics are wreaking odd paranormal phenomena as well as predictable havoc. Having inexplicably survived a fatal hit-and-run accident over the summer, aptly named Adrian Lazarus is off to seventh grade, sporting a hoodie to hide his increasing facial disfigurement and lunching on formaldehyde smoothies to keep himself together. Simultaneously resenting and yet understanding the varied reactions of his schoolmates—which range from shunning to all-too-close attention from a particularly persistent bully—Adrian is also surprised and pleased to discover that he has allies, notably Gia Demeter, a new girl with a peculiar ability to foretell certain events. Preller might have played this as a light comedy (and there are some hilarious bits), but he goes instead for darker inflections. Even as Adrian sees himself becoming ominously aggressive (while developing tastes for roadkill and raw meat), his discovery that fabulously powerful data miners Kalvin and Kristoff Bork are ruthlessly scheming to put him under the knife in search of the secret to his longevity cranks the suspense up another notch. Nonetheless, in a series of splendidly lurid exploits, Adrian beats the odds as he fights for a well-earned happy ending." — Booklist, 

Starred Review
"This uproarious middle grade call to action has considerable kid appeal and a timely message. A strong addition to school and public library collections." — School Library Journal.
Preller stylishly delivers a supernatural tale of a middle-schooler who craves normalcy, and environmental issues with some currency make the story even more relatable. Espionage, mystery, and the undead make for a satisfying experience for readers, and they'll be glad of the hint at a follow-up. — Bulletin for the Center of Children's Books.
"Preller takes the physical and emotional awkwardness of middle school to grisly levels . . . [and] thoughtfully chronicles the anxieties of middle school, using a blend of comedy and horror, to send a message of empowerment and acceptance." — Publishers Weekly.
PUB DETAILS: Macmillan, October, 2017, Ages 10-up.
PUBLISHED SEPTEMBER, 2016!
THE COURAGE TEST
2016 JUNIOR LIBRARY GUILD SELECTION
A father-and-son journey along the Lewis and Clark Trail — from Fort Mandan to the shining sea — offers readers a genre-bending blend of American history, thrilling action, and personal discovery.
"A middle grade winner to hand to fans of history, adventure, and family drama.." — School Library Journal.
"Preller traverses both domestic drama and adventure story with equally sure footing, delivering the thrills of a whitewater rafting accident and a mama bear encounter, and shifting effortlessly to the revelation of Mom's illness and the now urgent rapprochement between Dad and Will. Whatever young explorers look for on their literary road trips, they'll find it here. — Elizabeth Bush, The Bulletin of the Center for Children's Books.
"Preller stirs doses of American history into a first-rate road trip that does traditional double-duty as plot device and coming-of-age metaphor. Will is initially baffled and furious at being abruptly forced to accompany his divorced father, a history professor, on a long journey retracing much of the trail of Lewis and Clark. The trip soon becomes an adventure, though, because as the wonders of the great outdoors work their old magic on Will's disposition, his father and a Nez Perce friend (who turns out to be a Brooklyn banker) fill him in on the Corps of Discovery's encounters with nature and native peoples. Also, along with helping a young runaway find a new home, Will survives a meeting with a bear and a spill into dangerous rapids — tests of courage that will help him weather the bad news that awaits him at home."—Booklist, Starred Review
 THE FALL, Hardcover

THE FALL, Paperback

PUBLISHED IN PAPERBACK, SEPTEMBER 2016!
 "Readers will put this puzzle together, eager to see whether Sam ultimately accepts his role in Morgan's death, and wanting to see the whole story of what one person could have, and should have, done for Morgan. Pair this with Jay Asher's Thirteen Reasons Why (2007)." — Booklist.
"Told through journal entries, Preller's latest novel expertly captures the protagonist's voice, complete with all of its sarcasm, indifference, and, at the same time, genuine remorse." — School Library Journal.
"With its timely, important message and engaging prose style, Sam's journal ought to find a large readership." (Fiction. 10-16) — Kirkus.
 "It was 2:55 am as I finally gave up on the notion of sleep.  Having started reading THE FALL by James Preller earlier in the day, I knew sleep would not come until I had finished Sam's story.  Now, having turned the last page, it still haunts me and will for quite some time." — Guys Lit Wire.
"I didn't realize the emotional impact this book had on me until the very last sentence when it brought tears to my eyes. This was a heartbreaking and beautiful story about friendship, bullying, and the aftermath of all of it." — Expresso Reads.
NOMINATED FOR THE SAKURA MEDAL IN JAPAN!
LISTED BY YALSA AS A "QUICK PICK" FOR RELUCTANT YOUNG ADULT READERS at 2017 ALA MIDWINTER MEETING!
2009 JUNIOR LIBRARY GUILD SELECTION
"Preller has perfectly nailed the middle school milieu, and his characters are well developed with authentic voices. The novel has a parablelike quality, steeped in a moral lesson, yet not ploddingly didactic. The action moves quickly, keeping readers engaged. The ending is realistic: there's no strong resolution, no punishment or forgiveness. Focusing on the large majority of young people who stand by mutely and therefore complicitly, this must-read book is a great discussion starter that pairs well with a Holocaust unit." —School Library Journal, Starred Review.

"Preller displays a keen awareness of the complicated and often-conflicting instincts to fit in, find friends, and do the right thing. Although there are no pat answers, the message (that a bystander is hardly better than an instigator) is clear, and Preller's well-shaped characters, strong writing, and realistic treatment of middle-school life deliver it cleanly." — Booklist.
"Expertly written and rich on multiple levels, "Bystander" weaves a realistic tale of the bully, the bully's targets and the physical and emotional pain that the victims suffer. It explores what might happen when someone decides to no longer be a bystander and to do something about the bully's behavior." — Kendal Rautzhan, Nationally Syndicated Columnist
"Bullying is a topic that never lacks for interest, and here Preller concentrates on the kids who try to ignore or accommodate a bully to keep themselves safe . Victim David's pain is evident from the first moment newcomer Eric sees him, but he tries not to acknowledge the reality before him. His mother is trying for a fresh start in this Long Island community, as his father has succumbed to schizophrenia and left her and their two boys on their own. Griffin, the bullying instigator, has charisma of sorts; he is a leader and yet suffers under his father's bullying and aggression. For Eric to do the right thing is neither easy nor what he first wants to do, and the way he finds support among his classmates is shown in logical and believable small steps. Eminently discussable as a middle-school read-aloud, the narrative offers minimal subplots to detract from the theme. The role of girls is downplayed, except for classmate Mary, who is essential to the resolution, enhancing appeal across gender lines. (Fiction. 11-14)" — Kirkus.
"Plenty of kids will see themselves in these pages, making for painful, if important, reading."— Publishers Weekly.
"Should be required reading for students in middle school or just getting ready to enter middle school." — Literate Lives.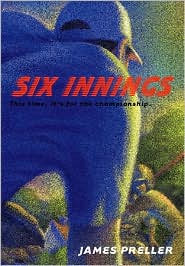 2009 ALA CHILDREN'S NOTABLE BOOK
2009 BANK STREET COLLEGE BEST CHILDREN'S BOOKS OF THE YEAR
2008 TOP 100 BEST BOOKS FOR READING AND SHARING — New York Public Library.

2008 TOP TEN BEST SPORTS BOOKS OF THE YEAR — Booklist.
"If Judy Blume could write a book about Little League, about its players' deepest fears and secret dreams, it might come out something like this."—Publishers Weekly, Starred Review
"A magnificent championship game between two Little League teams that is as much about the players as the plays."—Booklist, Starred Review
"It was Six Innings that made a baseball lover out of me." — New York Times Book Review.

"A tale of baseball, friendship, growth, and coming to terms with hardships, this fast read will grasp any reader who enjoys sports."–School Library Journal
THE "SCARY TALES" SERIES!
In this series of books, each story is completely different, a new setting with new characters, yet each one promises a "Scary Tales" experience. What attracted me to this over-arching structure, inspired by the old "Twilight Zone" TV series, was the width of possibility. The stories could be quite different, not at all narrow or typical. After writing a few that were quite conceptual — I Scream, You Scream andNightmareland, in particular — I settled on simpler, more traditional thrills in the most recent stories: The One-Eyed Doll and Swamp Monster.
"Finally, thrillers for younger readers! SCARY TALES is a wonderfully creepy introduction to a gripping, ghostly genre" — Patty Norman, Copperfield's Books.
"We need more scary stories for young kids. This series looks PERFECT!" — Franki Sibberson, teacher, Dublin City Schools, Ohio.
Scary Tales #1: HOME SWEET HORROR
Welcome to the new home of the Finn family. Don't be afraid. Come, step inside. But be warned, this old house only seems empty. Because thanks to a harmless children's game, Bloody Mary just might make an appearance in a mirror near you. Careful now, she scratches. Any questions, just ask. This old house is dying to talk.  "Preller (the Jigsaw Jones mysteries) serves up gasp-worthy scenes and chilling twists in this illustrated chapter book that launches the Scary Tales series….Just enough chills to keep burgeoning readers flipping pages."– Publishers Weekly. Published July 2013.
2013 Cybil Award Winner!
"This little page-turner could become a campfire classic!" — Cybils.
"The thrills and chills are delightfully spine-tingling in this truly terrifying tale. A great choice for reluctant readers." – School Library Journal.
Scary Tales #2: I SCREAM, YOU SCREAM
Enter the world of Samantha Carver, an ordinary kid who loves amusement parks, the smell of popcorn, and the terror of a heart-pounding ride. Sam's got a ticket in her pocket for a very special ride. This ticket will send Sam and her new friend, Andy, on a most unusual adventure — and leave them screaming for their lives. So come along, take a seat. Buckle up, nice and tight. It's sure to be a bumpy ride.
Scary Tales #3: GOOD NIGHT, ZOMBIE
In the gathering dark of autumn twilight, three 5th-grade students enter a near-empty elementary school. They hustle to fetch forgotten things: books, assignments, basketball sneakers. They will soon be trapped inside — doors chained, locked shut. In the basement, a mysterious night janitor waits. And outside, moving in the mist, dark shapes shuffle closer, ever closer.
Scary Tales #4: NIGHTMARELAND
"The latest spine tingler in Preller's spooky chapter book series is sure to inspire a few chills. In this tale, a boy receives a new video game called Nightmareland. It warns users to "Enter at Your Own Risk," a challenge that Aaron likes. He soons finds himself entangled in a world that seems like so much more than a mere game. Some genuinely creepy moments make this ideal for readers who can't get enough "Goosebumps" and Alvin Schwarz tales." — School Library Journal.
Scary Tales #5: The One-Eyed Doll
Scary Tales #6: Swamp Monster
Click right here for a glimpse behind-the-scenes about Swamp Monster. It's a pretty good writing lesson too, if you want to read it that way.
Oh, hey, check out this trailer:
BEFORE YOU GO
"Preller makes us care about these people. We wonder about them after they're gone." — The New York Times Book Review.
"A summer of love and loss nearly derails a teenage boy . . . . The author strikes the right tone in capturing Jude's inner struggles with grief, angst and love as he tries to come to grips with the direction his life has taken." — Kirkus Reviews.
"For an older audience than Bystander (2009), Preller's latest takes on intense issues of love, friendship, and haunting sorrow . . . The realistic workplace scenes and the fast, wry, contemporary dialogue will hook readers, as will the moving drama of grief and guilt." -– Booklist. 
A PIRATE'S GUIDE TO FIRST GRADE

2010 CHILDREN'S BOOK-OF-THE-MONTH CLUB SELECTION.
"Told entirely in pirate lingo, this story follows a boy and his entourage of ethereal salty dogs through the first day of school. 'Me great scurvy dog slurped me kisser when I was tryin' t' get me winks!' The protagonist's fruitful imagination turns ordinary routine into a high-seas adventure complete with a small, skirted buccaneer walking the plank during recess. In the end, where does X mark the spot? Treasure abounds in the library, with the chance to experience the adventure of the written word. The illustrations have a vintage feel, complete with boisterous grog-drinking, scabbard-waving, and bubble-pipe-smoking pirates. The combination of the muted tones of the pirates with the bold colors of the real world adds to the visual appeal . . . it can serve as a tremendous read-aloud, especially on Talk Like a Pirate Day."—School Library Journal, Starred Review
"Preller's buoyant pirate-inflected storytelling and Ruth's illustrations, which have a decidedly vintage flair, form an exuberant tribute to imagination and a spirit of adventure."—Publishers Weekly, Starred Review
"Pirate-addled readers will dance a jig; press-ganged kids will be happy for the glossary. Good fun, me hearties." — Kirkus Reviews.
"Young children who love pirates—and parents who might relish reading aloud with swashbuckling gusto—are going to find "A Pirate's Guide to First Grade" just their cup of grog." — The Wall Street Journal.
"Young would-be buccaneers facing their own first-day jitters will enjoy this droll title, which ends with a cheer for libraries. A great choice for sharing on September 19, International Talk Like a Pirate Day." — Booklist.
A PIRATE'S GUIDE TO RECESS
"I can't think of another book that portrays so beautifully (text plus illustration) what imaginative play at recess looks and feels like. Spot on perfect." — A Year of Reading.
"Preller and Ruth transform a school playground into a swashbuckling adventure featuring two rival captains—Red (from the previous book) and fearsome Molly. Their respective pirate crews are again rendered in pencil, creating a ghostly effect, and their surly theatrics will pull readers through this nautical fantasy. "Don't scowl so, sweet Red!" Molly tells Red after his crew mutinies. "We're just having a little yo ho ho." Preller and Ruth put kids at the helm as they communicate the joy of escaping into a world of pretend." — Publisher's Weekly, Starred Review.
–
At Spiro Agnew Elementary, the fifth graders rule the school. And class clown Justin Fisher rules them all. Or, at least, he did. Justin has always been the funniest kid in school. But this year, his new teacher isn't amused. And when Justin gets in trouble with Mr. Tripp over and over, the other kids turn on him, too. No one wants to be friends with the class troublemaker. But Justin Fisher isn't going down without a fight.
"This quiet, universal story about a regular kid acting out who just needs a hand will make a good classroom read. Preller handles sensitive issues with dignity, and kids will identify with Justin's eagerness to be liked and his snarky jokes. The book will be a particular hit with fans of Lenore Look's Alvin Ho and Jerry Spinelli's Maniac Magee." — School Library Journal.
"The short chapters also make Justin Fisher Declares War! a friendly read for more reluctant readers. A delightful addition to the world of humorous middle grade fiction." — Young Adult Books Central.
"If I were in the classroom this year, this would probably be my first read aloud. The first read aloud has always been key and the choice is always a hard one but there are so man reasons that JUSTIN FISHER DECLARES WAR would make a great first read aloud." — Franki Sibberson, A Year of Reading.
"I think boys will relate to Justin and enjoy laughing along with his misadventures. Coming in under 150 pages, with short chapters and a fast-paced story, Justin Fisher Declares War is a great transitional book for boys." — Pipedreaming.
"A great suggestion for fans of Andrew Clements or Dan Gutman." — The Happy Nappy Bookseller.
"Every class has a Justin, and at some point, every class begins to object to the disruption caused by a chronic goof-off.  Preller's novel offers excellent read-a-loud potential with ample opportunity for discussion about behavior and its consequences.  I'll definitely be recommending this one to both students and teachers in middle grade classrooms." — Reading Junky's Reading Roost.
MIGHTY CASEY
"Set against ample white space, Cordell's endearingly geeky kids take center stage (mid-game distractions include tree-climbing, a bee sting and a bathroom break on the left field fence). It's hard to envision a reader who won't take to these underdogs. Ages 4–8." — Publishers Weekly.
"When the score is tied, and bases are loaded, Casey comes up to bat. Does this sound familiar? The ink and watercolor drawings vary in size and are full of energy and movement as the players engage in different activities. The faces are expressive and fun to look at. This is a great baseball book for all those T-ball and Little League players out there." — School Library Journal.
"With engaging read-aloud rhythms and a misfit cast young children will cheer for, this story is assured a place in (Little League) baseball lore."—Booklist.
–

2008 TOP 100 BEST BOOKS FOR READING AND SHARING — New York Public Library.

"I think that all adults in education, as well as students, need to read this book because it gives a thoughtful, insightful look into the minds of children like Trey . . . Thanks to James Preller for such a wonderful, thought-provoking story! " — Literature Lives.
"Preller adeptly portrays the psychological and social dynamics of this age group, and Trey is realistic and sympathetic as a misfit." — Kirkus.
"The lifelong friendship between two fifth graders—one with a mild spectrum disorder—hits the rocks but emerges intact in this perceptive tale from the author of Six Innings (2008). Feeling conflicted but wanting to fit in better with his classmates at Spiro T. Agnew Elementary, Robert (nicknamed Spider) uncomfortably tries to put some distance between himself and his buddy Trey, whose obsessions, lack of sensitivity to social cues, and general clumsiness have resulted in a reputation for being "out there." — Booklist.
"A fascinating joy to read with excellent readability and flow!" — Alan Online.
WAKE ME IN SPRING

HICCUPS FOR ELEPHANT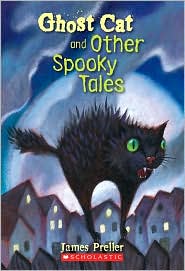 GHOST CAT AND OTHER SPOOKY TALES

THE  BIG BOOK OF PICTURE-BOOK AUTHORS & ILLUSTRATORS