–
The site Boing Boing recently linked to this 2018 post from the Wichita Public Library . . . 
Receipts highlight the financial benefits enjoyed by customers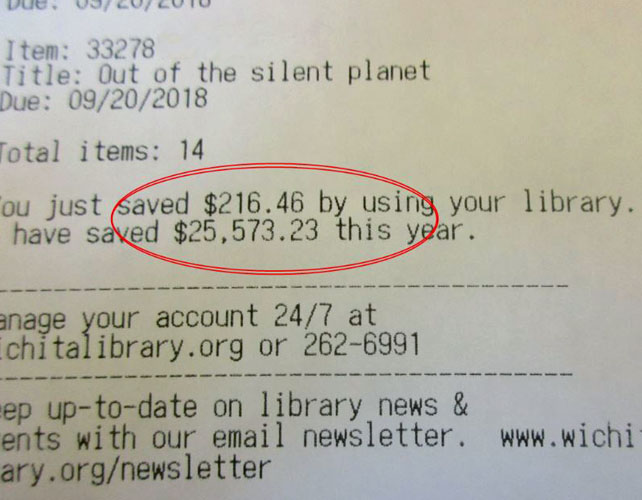 Every time materials are borrowed from the Wichita Public Library (WPL) customers receive a receipt showing how much they have saved in that visit, the year to date, and their lifetime savings. The information is displayed on the receipt similar to the ways that retail stores show savings to club members or coupon users.
"While libraries offer tremendous benefits to their communities, sometimes the benefits are more abstract or require long term studies to show the value of their programs," said Jennifer Lane, communication manager, Wichita Public Library. "Including this information is a way to easily quantify one of the ways the Library is a value to its users."
This feature is made available through the WPL by the Polaris Integrated Library System (ILS). This system is used by the Library to manage customer accounts as well as the inventory of our library collection, including the materials catalog. In 2016, the "You Saved" feature was implemented as a free add-on to the system during an upgrade. The "You Saved" feature calculates the amount saved based on the original price of the material when it was purchased by the Library.
The "You Saved" feature has proven to be popular among the public and has generated a lot of interest. Some customers use the information on their receipts to encourage their friends to use the Library, and when photos of receipts are shared on social media it gains a lot of attention. As a result, the Library has received calls from numerous libraries asking how they can share this type of information with their customers.
So far this year, the highest dollar amount saved by a customer's account is $64,734.12. And the highest dollar amount saved by a customer's account since this feature was implemented is $196,076.21.
"One customer was impressed that she had saved $2,500," said Kristi Dowell, library manager, Wichita Public Library. "Another customer commented that she already knew what a good deal the Library was."
–
–